Visitors Management Software & MyKad Reader

VYROX Visitors Management System, Developed by BigCow Software
Powered by
AUTOSERVA
, the VYROX IoT Technology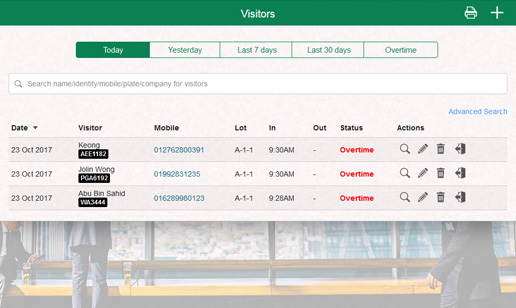 Features
Residents able to pre-register their guests with guards for seemless access upon arrival.
Residents will get instant push notification on their smartphones upon visitors doing registration at the guard house.
Residents able to check the visitors IN/OUT/OVERTIME status on smartphone with the APP.
The guards able to record visitors' information conveniently using mobile phones with APP.
The guards able to capture visitor's face, number plate of the vehicle and IC/Passports in high quality images easily with APP.
The guards can assign nearest parking lots to visitors and print QR-code for specific internal access.
The guards can set white-list and black-list for visitors.
The system supports MyKad reader to read and to authenticate Malaysians identification.
The system supports any USB webcam to capture visitors' face, number plate of vehicle and IC/Passports
The system will automatically pop-up message and remind the guards about visitors who should be leaving at the time.
The system will automatically query the database upon inputing visitor's name, IC/Passports number and number plate of the vehicle to show matched past records.
The system is linked with emergency SOS button in the APP for instant assistance when needed.
The system is integrated with video intercom feature in the APP for quick communication when assistance is needed.
The system can be integrated with barrier gates, cards access, lifts access and QR-code access.
The management able to check and review any of the record by accessing the cloud server at anytime from anywhere.
The management able to check the most visited houses/lots to prevent prohibited airbnb activities.