Snooker King
Software Featured Functions
World no. 1 snooker billiard center management software powered by VYROX lighting control technology. Help to kill fraud free games, eliminate untrust-worthy staffs. Our statistics proven to increase your sales by 70% using VYROX Snooker King automation software. Suitable for all kinds of timer-based billiard games like Snooker & Pool, PlayStation, Rooms, MahJong, Badminton, Futsal, Ping-Pong, Table Tennis, Basketball, Netball, etc.
All in one:
GST READY!
Membership Database Management

Create member profiles only need name and contact number.
Member booking records by ID.
Check membership card balance and transaction.
Topup credit for membership card (RFID Contactless Card).
Credit records can be access by entering member ID.
Discounts & Promotion

Point of Sales System

Advanced e-commerce style point of sales interface.
Add to items and verify before make payments.
Easy add/edit/remove products based on product categories.
Simple stock addition and deduction interface.
Retail stock management.

Record Database

View by daily revenue
View by monthly revenue
View by yearly revenue
View by batch number
View by item
View by category
View by time
View by staff

Lighting Control

Manually switch ON and OFF table lights one by one or all light if faulty occur by using software.

Package & Rate Settings

Add up packages, price and duration depending on needs and occasions.
Can choose one of the packages to be the default package.
Fixed rate function available.
Special rate available for specific tables and specific time.

General Settings

Create company profile for receipt.
Receipt wording dimensions.
Check out settings
Multitouch Screen Supported
Anti-Fraud

Once lights on, game is recorded automatically and immediately. There is no way to play 'FREE' game using this system.

Lighting Automation & Control System

Click to start game play timer and simultaneously turn on lights of snooker table. Click again to checkout and table lights turn off automatically.

Admin Privilege

Admin account has all controls over the system. Admin can create staff accounts. Staff accounts have limited privileges, it only can view records but not modifying any records or any settings.

Inventory Management

Admin able to add, edit and check stock records.

Flexible Game Rate Settings

Admin able to set different time period in a day with a different rate for every snooker table.

Complete Sales Report Generation & Statistical Records

Admin able to check and review detailed record of all transactions.Admin able to arrange and view all the records by daily, monthly and yearly basis.On the other hand, admin able to arrange and view all the inventory records by item categories and items.

Fabulous design & User friendly Front-end Control

Graphical design and mouse-clicks control, even a children at age of seven know how to operate this snooker software.

Cloud Technology Architecture

Admin able to access control the system through the internet from anywhere at any time.This technology brings convenient to admin and accountants in checking the transaction records.They are able to obtain all the information without physically present at the snooker center.

Web-based Design

This software support iPhone4, iPad2, Android Phones, Windows Phones (ALL internet enabled devices).

Easy Setup

Easy as connect the control box to USB/Serial Com Port of PC.Then, connect all the lights to the control box.Finally, switch on the control box, you are DONE!

Receipt Editor

This software has function which is the admin can edit their receipt for all type of transaction and this software can be connect to all type of receipt printer.

Membership Database Management

This software has function which is the admin can do the membership database which is include the membership type and member registration and this software can connect to RFID card scan.

Staff Management

The admin can see their staff log in record and can easily monitor their staff.

System Information

Admin can check the either the software will be need the maintenance by view the system information.
1) 防止员工作弊
一旦开始计时,游戏会自动记录,员工无法作弊。
2) 一键灯控
一旦开始计时,球桌自动开灯。点击结帐,球桌灯就会自动关掉。
3) 用户权限
管理员可以操作所有前台和后台的功能,并增加新的员工账号,员工账号只能控制前台和查看记录。
4) 库存管理
管理员可以添加,编辑和检查库存记录。
5) 可以任意调整收费
管理员可以为不同球桌,不同时段设置不同价格。
6) 完善的销售报告及统计记录
管理员能够查看每一项交易的详细记录。
管理员能够选择每天,每月或每年的方式来查看销售报告。
同时,管理员能够查看所有物品的库存记录。
7) 功能强大,使用简单
不需要任何课程就可以使用的灯控计时软件。
8) 云端技术
-> 管理能够透过网上登入并控制系统,方便管理员随时随地查看记录。
即使不用到现场,也能掌握现况。

9) 软件网站化
该软件支持的iPhone4,iPad2,Android手机,Windows手机或任何可以上网的设备。
10) 安装简单以及快捷
我们的服务包括免费安装。我们很快就可以安装好,绝对不会打扰你做生意的时间。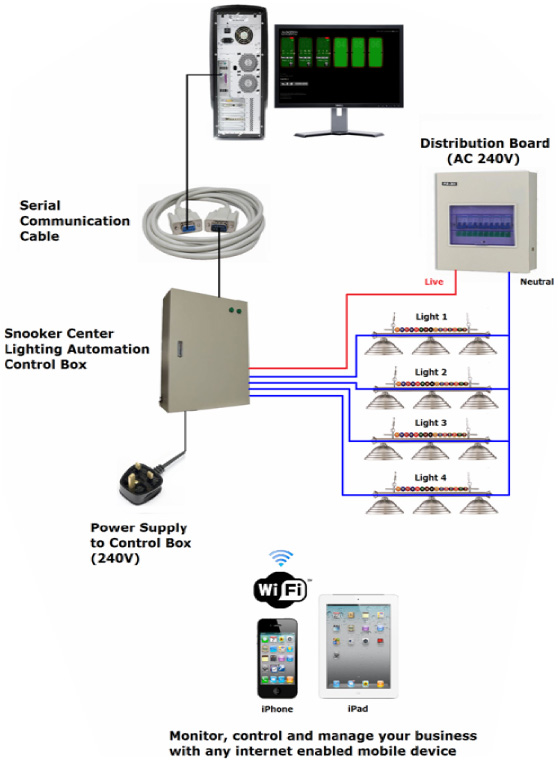 Completed Projects - Videos
Klang Malaysia Snooker Center Software System

Klang Malaysia Snooker Center Software System

Klang Malaysia Snooker Center Software System

Snooker Software at Kuala Lumpur

Seremban Snooker Software System

2015 Snooker Software System (Kuala Lumpur, Malaysia)

Snooker Software Malaysia

Kota Damansara, Selangor

Sri Manjung, Perak

Johor, Malaysia

Sungai Buloh, Selangor

Silibin, Ipoh, Perak

Sungai Siput, Perak (#2)

Sungai Siput, Perak

Ipoh, Perak (#5)

Singapore

Teluk Intan, Perak

Ipoh, Perak (#4)

Melaka, Malaysia

Kuala Selangor

Nibong Tebal, Penang

Gua Kelam, Perlis

Ipoh, Perak (#3)

Ampang, Kuala Lumpur

Alor Star, Kedah

Ipoh, Perak (#2)

Ipoh, Perak
Where is using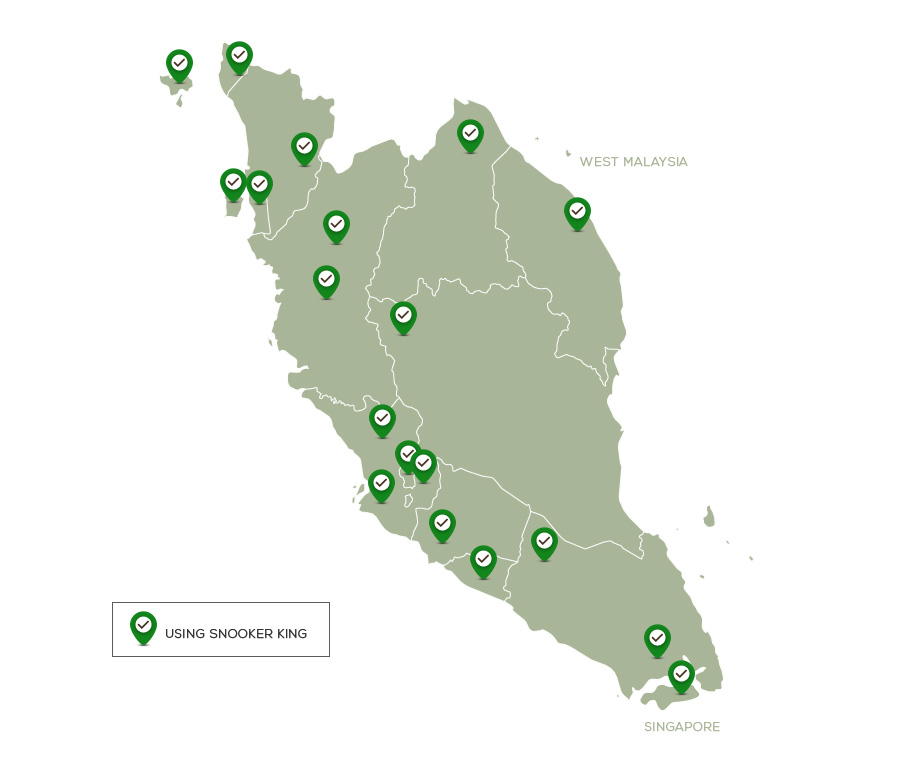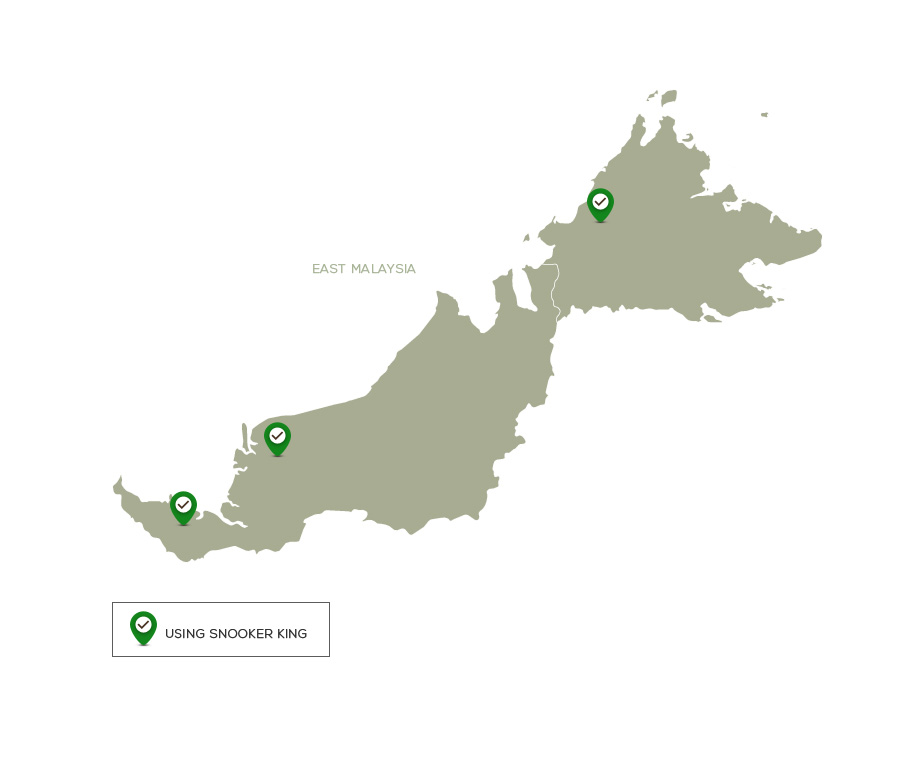 Installation Diagram