PBX / PABX
MENU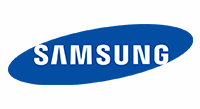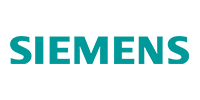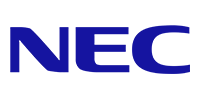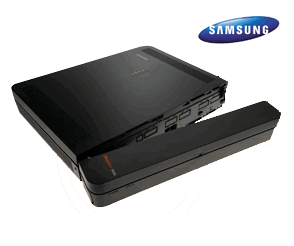 Samsung OfficeServ 7030 IP PBX Phone System
The Samsung OfficeServ 7030 IP PBX is a next generation IP solutions specifically designed for small businesses that need a sophisticated communications solution that's also simple to implement and manage.

For small businesses that require up to 20 extensions this is an unrivalled phone system with a high level of features and functional flexibility without the high price tag. The Samsung OfficeServ 7030 IP Pbx can accommodate a full range of analog trunks and extensions, digital trunks and extensions, as well as IP phones, wireless or fixed, and standard SIP in various combinations.

Cost savings by automatic call routing and economical IP trunks using SIP Connectivity. Cost-effective VoIP technology that supports IP phones / IP extensions for remote workers
Enhanced performance - Optimizes staff mobility and hot-desking with comprehensive "follow me" functionality, seamless integration of wired and wireless networks enabling wireless handsets and PDAs to access voice and data services from anywhere in the building. Simple connection from home or other offices through remote IP phones or soft phones. Built-in Computer Telephony Integration (CTI).
Easily expandable - modular architecture and common software ensures full scalability and interoperability between systems, enabling easy expansion or connection to other OfficeServ 7000 platforms eg. at other offices and branches

A single, compact, feature-rich platform that integrates the capacities you demand–Voice over IP technology and wireless communications working together as one.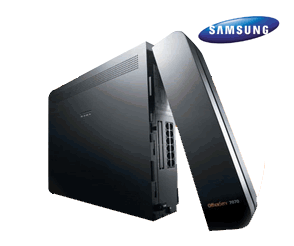 Samsung OfficeServ 7070 IP PBX Phone System
Samsung OfficeServ 7070 is an IP-PABX optimized for small and medium sized busines having less than 50 employees.

It supports VoIP communications, and works perfectly with existing communication infrastructures. Moreover, it provides powerful performance with built-in functions that are essential for small and medium-sized businesses such as CID, Auto Attendant, and Voice Mailing Service.

Full compatibility with the OfficeServ 7000 series using identical S/W and terminals. A single, wall-mounted cabinet structure Scalability of multiple service boards into the universal slot A refined design suitable for small and medium-sized offices Scalability Various line groups can be configured through expansion in 4-line units Supports Spnet connectivity with the OfficeServ 7000 series VoIP Support Supports 8 VoIP channels without additional equipment.

Reduces communication costs by working together with Internet telephony service providers through the SIP trunk support Provides teleworking solutions through an IP network.

An integrated VoIP network can provide seamless collaboration with a remote office Built-in Applications Supports Voice Mail, Auto Attendant, and CID function without additional equipment Equipped with Internal MOH, External MOH, Paging, and Contact SOA(Service Oriented Architecture)-based Business Solutions.

Supports interworking with solutions such as the IP contact centre, groupware, video conference call, etc.

Provides the OpenAPI to allow interworking with third party solutions, helping the customer's business. User-friendly Terminal Line up Supports IP phone, video phone, SIP phone, softphone, 3G dual phone, Wi-Fi phone, digital phone, and analogue phone.

Various Application Solutions Interworking with various application solutions such as voice mail solutions with a built-in board, integrated fax server, integrated digital voice recording system etc.

Hospitality : Responsive, personalised customer service is particularly important in the hospitality industry and therefore Samsung has a range of hospitality applications.

Application : Available in a range of configurations, Samsung hospitality solutions combine sophisticated front of house management functions with a comprehensive range of 5 star guest services - ideal for all hospitality environments such as hotels, hospitals, nursing homes and halls of residence.

By offering an enhanced front desk management system - including automatic generation of consolidated guest accounts, multiple room tariffs, automatic credit control, on-line room status, customised bill invoicing and access to valuable marketing information from your own customer database. Samsung Hospitality solutions keep you in control and maximise the operating efficiency of your establishment.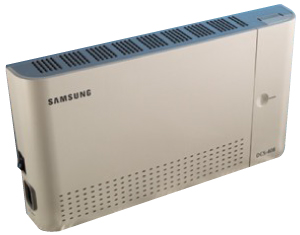 Samsung PABX DCS 408 Switchboard Telephone System
A pabx phone system ideal for the start up company or a small company. The system is equipped with four lines, four digital extensions and 4 analogue extensions.
The Samsung DCS 408 is user friendly and will grow easily with one touch button features which can be programmed for repetitive functions. Help prompts make accessing the multitude of other features a breeze with prompts appearing to guide one every step of the way. Samsung now brings with it a proven record of reliability and extensive experience, and now brings you the cost effective digital Telephone Systems. The Samsung DCS 408 is easy to install and use with advanced digital functionality. Perfect pabx for any small business - Samsung DCS408.
SYSTEM SPECS :
Simple Configuration: One Processor & One Board
- ISDN Option: DCS-408 ISDN : 2 BRI Trunks + 4 Analogue Extensions + 4 Digital Extensions
- Analog Option: DCS-408 Analog : 4 Analog Trunks + 4 Digital Extensions + 4 Analog Extensions
External or Internal MOH
Plug & Play
Slim and Simple Design
CLIP (Calling Line Identification Presentation), DDI, MSN
Remote Service via MODEM : Remote PC-MMC
Uniform Call Distribution
Least Cost Routing
Default program DSS buttons (DT/DS/Function keys)
Compact Size ( 350 x 190 x 60 mm, 2Kg )
Sophisticated Call Handling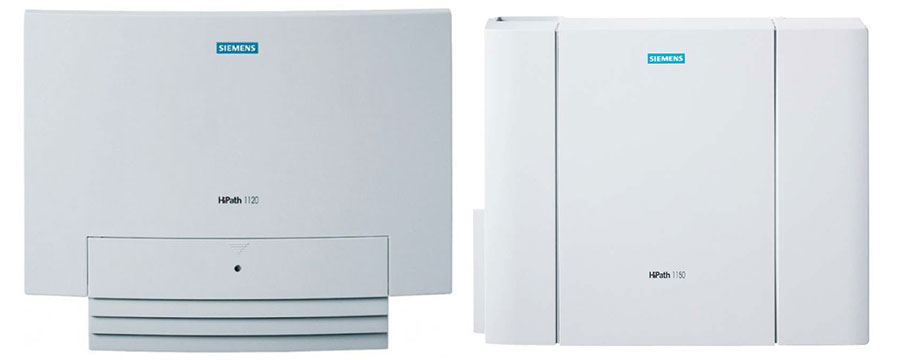 HiPath 1120 and 1150 Switchboard
The HiPath 1120 comes standard with 2 lines and 8 extensions standard and is expandable to 6 lines and 16 extensions. No need to upgrade the entire PABX just add line and extension cards as you need
The HiPath 1150 comes standard with 2 lines and 10 extensions (ie. 12 ports) and can be expanded to between 6 and 17 lines and 16 and 58 telephone users.
FEATURES :
Night service
Conference
Consultation with attendant console
DISA
Do not disturb
DTMF suffix dialing
Electronic lock
Emergency call
Event signaling (fax, printer)
External dialing restriction
External call diversion
Extension name display
Flash on trunk
Hunt group
Key programming on key phone
ACS Alternative Carrier Selection
Speed dial name
Auto attendant with announcement
Auto hands free activation and deactivation on key sets
Call back on busy and no answer
Call barring
Call forwardingfor internal / external extensions
Call hold or call park
Call within a group
Group or selective call pickup
CLIP info in each ext with CLIP phone
Voicemail interface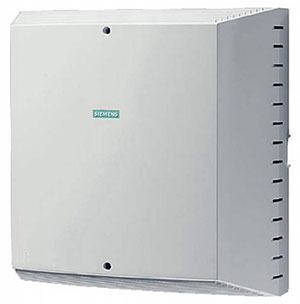 HiPath 3550 Switchboard
Siemens HiPath 3000 PABX system is an IP switchboard for small and medium-sized enterprises, offering future proof communications on a distributed architecture. HiPath 3000 brings together the features and reliability of voice communications systems with the benefits of IP-based communication.

With the Siemens HiPath 3000 PABX, enterprises open themselves up to various potential choices and they benefit from the "Practical Convergence Today" strategy.

With the Siemens HiPath 3000 IP PABX convergence platform, voice and data are transmitted across one network. The Siemens HiPath 3000 PABX system offers workpoints and applications that with IP Interworking, can be installed in all three environments with maximum functionality.

Cost-effective and seamless communications from workstation to workstation makes employees mobile.

Siemens HiPath 3000 PABX uses an open and distributed architecture that enables several locations to be connected universally and cost-effectively within the company network.

Siemens HiPath 3000 PABX require applications to be installed only once to make them accessible across the entire company and from every workstation.

There are many applications to choose from, all of which contribute to optimizing workflow:

* HiPath Xpressions for Unified Messaging and Unified Communication
* HiPath ProCenter- a Call Center solution
* HiPath SimplyPhone which integrates voice into data communication
* Cost-effective implementation of customer specific package applications
* HiPath Fault Management for higher availability.
* High performance software cost control efficiency
* Call Manager for simplified administration with many cost reduction tools.



Siemens Switchboard HiPath 2030 VOIP PABX HiPath 2000 Real-time VOIP Phone System Family
What are the Key Benefits of the Siemens VOIP PABX?
> Cost-effective, feature-rich and future proof solution today. Move your business ahead of the competition.
> Supports for up to 30 users.
> Supports one fractional T1 interface for easy to configure convergence.
> IP connectivity improves productivity for sharing applications and resources.
> HiPath can tailor applications to your business needs.

What is a Siemens HiPath 2030 VOIP PABX?
The Siemens HiPath 2030 Real-Time IP PABX System supports up to 30 extension users so that very small office or edge locations can take full advantage of the latest IP technologies. It has fully integrated IP communications, multi-site networking capabilities and SNMP based administration. The Siemens HiPath 2030 delivers reliable, intelligence in communications. Improved productivity from IP connectivity to share applications and resources with a affordable convergence strategy.

What's different about the Siemens HiPath VOIP PABX?
The HiPath 2030 supports 30 users, has an integrated EVM (entry voice mail) as well as two FXS ports.

Who will benefit from this VOIP PABX?
Small enterprises or edge locations with multi sites (branches) looking to cut costs with IP networking and provide full featured functionality to their user community.

What will work with the Siemens HiPath 2030 VOIP PABX
The Siemens HiPath 2030 Real-Time IP PABX System works with larger real-time IP systems to support growth as your user base grows. It supports various workpoint clients including digital telephones, IP telephones and PC soft clients.
> HiPath 3000 Real-time VOIP PABX Systems
> HiPath 4000 Real-time VOIP PABX System
> HiPath 5000 Real-Time VOIP PABX System CorNet IP
> optiPoint 420 IP phones
> optiClient 130 PC soft clients

NEC SL1000 PABX
NEC SL1000 Smart Communication Server is an IP enabled intelligent hybrid system. It is designed to accommodate small and medium enterprise (SME). It is the most cost effective and affordable for expanding small and medium businesses. The basic system is equipped with 4 trunk lines 8 extensions and expandable up to 48 trunk lines 128 extensions.
The intelligent hybrid extension ports auto detect, plug and play either a digital phone or a single line phone is connected. In addition, NEC door phone can also be connected to a hybrid extension port without additional investment of door phone interface card.
Hybrid Concept
SL1000 provides Hybrid ports, realizing seamless integration of multi-line terminal, single line telephones, facsimiles, and more without complex settings.
Scalable Architecture
SL1000 starts from 4 trunk lines and 8 extensions scales up to 128 extensions (230 ports). The system is Flexible to suit any changing demands of communication infrastructure
SL1000 FEATURES
Room monitoring from outside
Warning Message during night mode
Remote Inspection, with auto-emergency call
Sensor Connectivity with auto-emergency call and warning message sending
Built-In Auto Answer
(Standby mode) during night mode
TDM/IP Coverage
ISDN Compatibility
Voice Mail Integration
Paging Announcement
Programmable Function Keys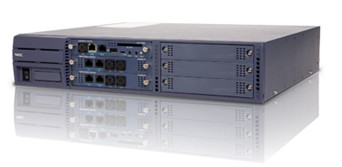 NEC SV8100 PABX
NEC SV8100 PABX FEATURES
The NEC SV8100 PABX is a unique communication Server solution for small to medium size business as up to 500 users. Its expandability means it can work at any level, from a technically superb phone system, to a truly advanced unified communications platform.
The SV8100 Communications Server offers a scalable, reliable, full-featured communications solution to meet a growing business's needs.
Deployment of a pure IP solution or any combination of IP and traditional circuit-switched technology is supported on a single SV8100 system.
The SV8100 offers centralized management of phones, data systems and platforms; moves, adds and changes of SV8100 phones are quick and easy. Just plug any phone into any jack wherever it is needed and it is ready to go!
The SV8100 enables you to streamline business processes and enables your staff/customers to reach the right resources with one call.
Countries
We have customers from all over the world!

Malaysia

Singapore

China (Hong Kong)

US

UK

Japan

South Africa

India

UAE

Qatar

Iran

Iraq

Uzbekistan

Jordan

Denmark

Bulgaria

Panama

Nigeria

Morocco

Egypt

Australia