Digital Signage
Our state of the art VYROX Cloud-based Digital Signage Content Management System will allow your digital signage to grow as your business does, there are no limits to the number of displays you can be controlling from one location. With todays technology you can create, upload and deploy you campaigns without getting out of your seat!
| | | |
| --- | --- | --- |
| Sporting Clubs | Shopping Centers | Conference Rooms |
| Bars | Home Hardware Stores | Training Rooms |
| Bistro's | Hotels | Office Buildings |
| Restaurants | Airports | Education Facilities |
| Retail shops | Transit Centers | Medical Centers |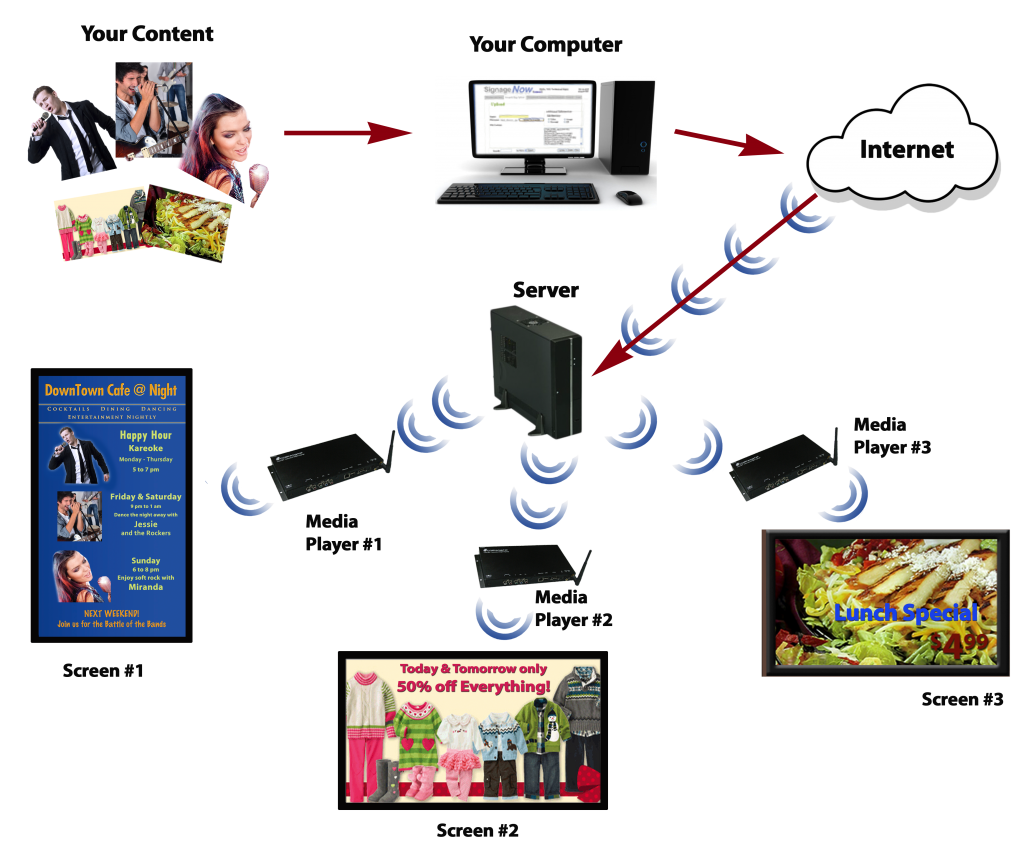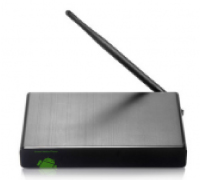 VYROX Digital Signage Media Player
Built-in VYROX Digital Signage Player Software
* Must work together with VYROX Digital Signage CMS Software (FREE)

1-Year Hardware Warranty by VYROX
1-Year Software Remote Support by VYROX

HARDWARE SPECIFICATIONS :
1X HDMI output (3D / 4K SHD/ 1080P HD / 720P HD)
1X AV RCA Output (Yellow, White & Red)
2X USB Ports (Keyboard / Mouse / Air-Mouse)
1X IR Receiver (Dedicated Remote Controller)
1X LAN Port (Wired IP Networking)
1X WiFi Anthenna

VYROX Digital Signage Media Player
Media Support for lots of different types!
VDS supports most types of media you might want to use and we have made it as easy as possible to add.

Library Media
Media that exists in the Library is media that you have uploaded into the CMS, such as Video or Image files. You can access the library at any time and get a clear list of files you have uploaded.

Layout Media
Some media only exists on a Layout, for example a RSS Ticker or piece of text.

Layouts
Layouts represent the design of your content and typically consist of a background image overlaid with one or more Regions. Each Region holds a Timeline which is a list of media that should be played.

Preview
Layouts can be previewed directly in the CMS so you can see how your Layout will look before releasing it to any Display clients.

Campaigns
Layouts can be grouped into Campaigns for easy management.

Scheduling
Layouts are scheduled to Displays for playback. Scheduling in VDS only requires a from date, a to date and a tick next to the Display that should show the Layout. Priority schedules can be set to override other content.

Repeating events
Events can be repeated at predefined intervals - choose from hourly to yearly repeats.

Schedule Now
Want to quickly schedule something to run now? Schedule Now is accessible from the Layout or Display management and only needs a duration.

Displays Signage Players
Each Display represents a connected signage player and is used to schedule Layouts to be shown.

Groups
Displays can be put into Groups for easy Scheduling and Management.

Statistics Proof of Play and Bandwidth
VDS monitors each Display for bandwidth usage, log in / out events, proof of play statistics and much more.

Don't need scheduling?
Displays even have a default Layout to be shown when nothing else is scheduled.

Permissions Everything has permissions
VDS Permissions can be as simple or as complex as required. A system can be run to that everyone sees everything, or so that every item is under lock and key.
Permissions can be assigned to individual users.

User Types
Each user has a user type which automatically gives them more or less permissions.

User Groups
Users can be put into groups for even more flexibility. There is a special "Everyone" group to assign permissions to all users.
It all fits together with ease.

Content Management System
The VDS CMS is a PHP/MySQL web application which can run on Windows/Mac or Linux. It is the central administration interface for the display network (if its a network of 1, or 1000).

Signage Players
In VDS signage players are referred to as a Displays. A Display is a TV or projector which will be used to show content. VDS will run on a PC behind the Display, communicate with the VDS CMS and display it's schedule.