Central Monitoring Station (CMS)
HARDWARE
SOFTWARE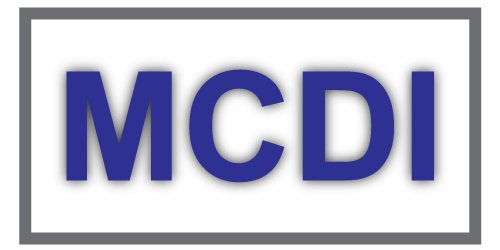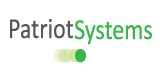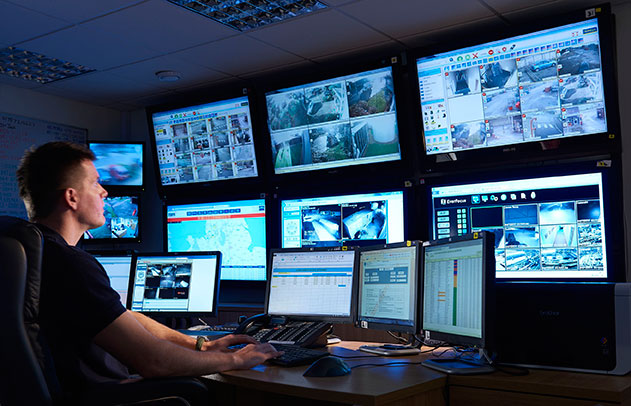 Central Monitoring Station (CMS) services are used by many security system owners who require high security monitoring. It is suitable for both residential and industrial sites. The CMS System consists of two main components: Signal Receivers to convert all alarm signals into raw protocol codes and Central Station Software that allow operators to view, manage and catalog incoming alarm signals from a massive number of alarm panels.

The Central Monitoring Station is equipped with both hardware receivers and Central Monitoring System Software. Central Station receivers differ based on the type of communication channels they monitor. Telephone Communication requires telephone line receivers while Internet Communication requires Internet Protocol (IP) receivers. These receivers listen to the communication channels, and then convert the transmission signals into alarm signal codes, which are sent to the central station software. These alarm signal codes are displayed for CMS operators to view, manage and report according to specific procedures developed by CMS services.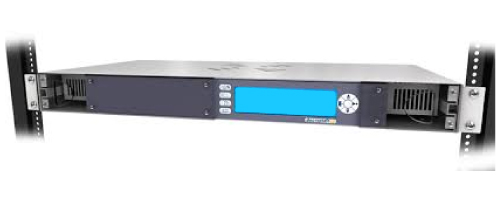 DECRYPTA 5
MCDI is coming back to high volume solution: Decrypta 5. Real space saver yet power house: 6 lines in just one rack-mount height (1.75 inches). Based on the Extrium cpu, this alarm receivers comes equipped with dual power source management as well as internal rechargeable lithium-ion battery. D5 reports over IP, serial and USB outputs. Remote configuration over web in French, English, Russian and Spanish.

Best design you can get in an rackmount: fan-less design for reliability and drawer design for easy access to components without tools.D5 available as RoHS Compliant for Europe or non RoHS compliant for Americas.

Newly added: Web based configuration now available for D5. Emailing of internal messages and Daily status report to 4 addresses now integrated in D5.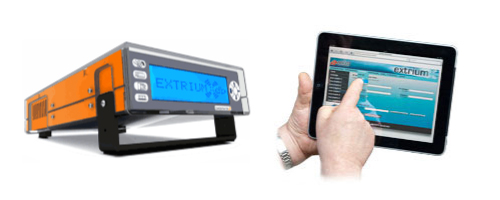 EXTRIUM RECEIVERS
The Extrium family: a new box and a new CPU for Extreme design and performances.
Extrium : DB Hybrid Receiver PSTN + IP receiver
Know it all with this complete solution: Internal 4000 accounts SQL Database lets you see name, account, phone number, alarm description and action to take right on the front LCD or in web browser. Ideal for Guard booths, Security offices, Nurse Wards or College Campuses.

Embedded web server allows web viewing of traffic, database configuration. Guards can view traffic and account info online using iPad, netbooks or intelligent phones.

Manage legacy receivers! Extrium cpu serves as an alarm router and can handle 2 traditional receivers connected over serial ports. Adds IP capacity and redundancy management to an old 24 or 30 lines receiver. Extrium will display account and alarm code descriptions even from external receivers.

Special extended version with IP receiving for Paradox IP, Roel,3i IP/GPRS and SIA DC-09 alarm formats on order. Tested with many communicators from various companies such as Telesignaal, Paradox, 3i and T.E.L.L.
Extrium : concentrator
All display options of Extrium::db available on front display or through web viewer. Available without internal receiver line card. IP receiving with redundancy management for legacy receivers.Extends alarm event description to external receivers.

Ideal if you already have a legacy alarm receiver. Connect it to Extrium to get enhanced features such as description, web viewing and IP reporting.

Special extended version with IP receiving for Paradox IP, Roel,3i IP/GPRS and SIA DC-09 alarm formats on order. Tested with many communicators from various companies such as Telesignaal, Paradox, 3i and T.E.L.L.
Extrium : voip
Extrium : voip gives voip capacity to Listen-in and 2 way voice signals. Receivers answers alarm panels but will keep the line open when receiving audio signal. This signal is converted to SIP protocol so Extrium can forward audio signal directly to the operator's PC or SIP phone extension. Operators can then benefit from SIP/Asterisk flexibility to transfer calls or record them.

Internal 4000 account database and embedded web server make it easy to view account, alarm code description through front display or from connected web browser. Guards or nurses can even view all account data on tablet device such as iPad.

External legacy phone receiver can be connected to extend capacity. Connect them to Extrium to get enhanced features such as description, web viewing and IP reporting.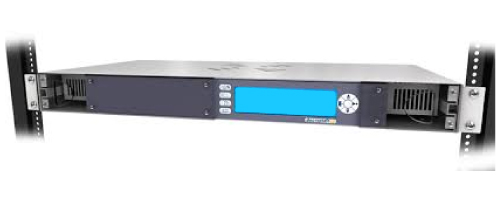 DECRYPTA 4
This totally new design now shipping. Replacing legenday D3, the new D4 picks up D3 features plus new ones.

A new design with a graphic LCD let's you see all key status at a glance. Eexpanded events memory to 4095 events with fast scroll on front display. Individual receiving configuration for both lines, ETSI and Bellcore caller ID. Configurable handshake sequence and fast answer mode.

Two outputs (USB+Serial), two power inputs with automatic roll-over for more than one week autonomy on battery*, configuration by front display or by connected PC. Relay port on backplate. Outputs to POS printer of EPSON TM-88 family or to supplied windows logger supplied.

Compatible with MCDI'S STM** Mobile web viewer to view events on iPhone or Android phone. 2 way audio handling for Tunstall TTnew, Contact ID, SIA and Pulse alarm formats with programable time out. Receives more than 20 alarm formats to cover most panels on the market. Reports to most Monitoring software in the market. Comprehensive displays allows set-up from front display in Deutsch, English, Espanol, French, Italian, Português, and Russian. PC Configuration tool adds Arabic and Farsi.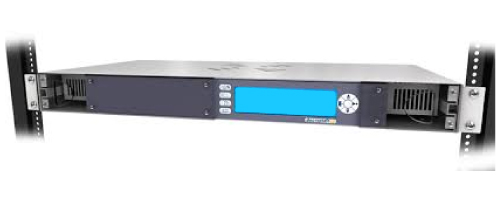 Exprecium D
This new version of Exprecium is made to meet RoHS directive for Europe, Turkey, China and Japan) i.e. this environmental friendly version is made without Lead (PB).
Features
2 independant phone line.
Recognizes more than 20 alarm formats
Fast handshake mode with fully configuratble handshake sequence
Caller ID
Listen-in and 2 way voice programming
Large 4095 events memory buffer
Multi-Language configurator
Traffic viewer included
USB and serial output to PC
Draws power for PC's PCI or PCI-E bus
Battery port to extend uptime to several days
On board realy to trigger external devices (sirens, lights, etc...)


New programming included for compatibility with Extrium family 2 way voice features and frequency response section redesigned! Ed also includes a filter specially designed to meet JATE specifications for Japan telephony.
Patriot software IP Receiver Modules
Patriot integrates with the most advanced IP equipped panels signalling via IP alarm receivers including DSC/Surgard, InnerRange, Paradox.
| | | | | |
| --- | --- | --- | --- | --- |
| Arrowhead | CSL Dualcom | DC09 | Emizon | Galaxy |
| ICT - Protege | ICT - PostX | ICT - Armor IP | Ksenia Lares | LS-30 |
| Micron | Siemens | Texecom | Web Way One | CSV IP |
Supported Alarm Receivers
Patriot supports all popular alarms receivers. If your receiver is not in this list, contact Patriot Sales to see if it is supported by an existing receiver task or emulation.
| | | | | |
| --- | --- | --- | --- | --- |
| Ademco | FSK | Radionics | AES Intellinet | Honeywell |
| RDC | Bold | ICT ArmorIP | BT Redcare | Bosch |
| IDS | Risco | Boss | IEI | RS400 |
| Chiptech | Infranet | Safecom | Chiron | Inova Radio Receiver |
| Salcom | CSL Dualcom | IRC | Scada | DMP |
| Jablotron | Scantonics | DSL | LS Telematics | Scientech |
| Electronics Line | MCDI | Silent Knight | Emizon | Multiguard |
| Surguard | Enigma | Osborne Hoffman | Tecom | FBI |
| Paknet | Teletek Electronics | Fratech InnerRange | Paradox | WebWayOne |
Starting a new Monitoring Business
If you are setting up a new monitoring business, Patriot will ensure that you can offer the widest range of monitoring options.

Patriot's scalability helps keep set up costs to a minimum. Initially a Patriot monitoring station can be set up on a low cost peer to peer network system using windows workstations. Patriot will even run on a single stand-alone computer.

As your business expands, Patriot can be migrated to more powerful server based platforms while retaining the same software and operational systems. Patriot will meet your expectations whether you are monitoring 500 or 500,000 alarm clients and whether you have one operator or thirty. In fact, with Patriot's messaging modules, you can set up a fully automated monitoring station with no operators at all.

Patriot is compatible with the widest range of alarm receivers; you can use whichever receivers best match your monitoring requirements. Patriot alarm monitoring software has been used in CMSs and alarm receiving centres internationally for over fourteen years and is compatible with all popular alarm formats. Whether you will be monitoring new or existing alarm clients, Patriot will meet all your current and ongoing monitoring needs.

Patriot can be configured with a wide range of optional modules. You need only purchase the modules that are relevant to your business. You keep setup costs to a minimum while offering a range of profitable services to your customers.

You can grow your monitoring business with confidence knowing that you will never have to change your alarm monitoring software or procedures. The Patriot support team will assist you in setting up your monitoring station and will provide ongoing technical assistance helping you meet the needs of a challenging and changing industry.

Best of all, Patriot's competitive initial and innovative and efficient design features will help make your new business profitable from day one.
Patriot supports a comprehensive list of alarm formats.
New receivers and formats can be easily added through the use of the latest object orienting programming techniques, without disrupting the existing program. See also IP Receiver Module.
If your alarm format is not in this list, contact Patriot Sales to see if it is supported by an existing task or emulation.
Contact ID
3x1/3x2/4x1/4x2
SIA
Contact ID Expanded
Ademco Fast
Radionics (Modem2/6112/7112/8112/9112)
IR Fast (supporting full text from the panel)
IR Fast for 1000/2000 panels
IEI Direct Line
Ademco Express
FBI Superfast
Silent Knight (5240/7100/FSK 2/FSK)
Healthlink
Atronica BS100
Europlex 3GS
Acron Fast
Eltek 90/95


SQL Database
Patriot uses the Microsoft SQL database. Patriot can be installed with MS SQL Express which is provided free of charge or with a fully licensed MS SQL 2005/2008 package.
Why does Patriot use an SQL Database?
1) Speed and Network Efficiency
MS SQL utilises server hardware architecture to a higher degree than standard databases. This prevents the bottlenecks that occur when data is processed on workstations. SQL databases are also more adept at quickly processing very large volumes of data. In-house testing with Patriot showed a 50 fold increase in the number of logged signals when compared to software using non SQL databases.
2) Compatibility
Third party software can access Patriot SQL data directly. This allows easier integration with reporting and analysis applications, accounting packages and other 3rd party software.
3) Data Replication and Warm Backups
The Patriot SQL database is backed up with no interruption to alarm signal processing. Backups are configured in Patriot to run at preset intervals. This ensures that your Patriot backup server has current data available at all times. Automated data restore to the Patriot backup server is an important feature available in Patriot Enterprise.


Patriot Enterprise Database Mirroring
Patriot Enterprise features support for Microsoft SQL database mirroring. Available with SQL Server Standard or Enterprise, this feature enables Patriot to maintain two identical databases on two separate SQL Servers. Patriot also supports running on a clustered SQL Database as well as Multi-subnet Clustering. This ensures that in the event of a failure of the primary Patriot SQL Server, the mirrored server will maintain service with no data loss.
The SQL servers must be in the same domain but can be located remotely from each other provided that there is fast, reliable TCP/IP connectivity between the sites.
Patriot provides a simple applet which automates the change in operating mode required to bring the secondary SQL database into service. Every Patriot system also includes free backup server licensing enabling CMS Managers to configure duplicate facilities which ensure ongoing data and operational security.
Free Back-up Server
Patriot recognises that information is one of the most important assets your business has. To protect your data, all Patriot versions include automated warm backup and archive facilities.

Every Patriot system includes a backup server licence at no additional cost so a Patriot standby server can be available for deployment at all times.

Patriot's free backup server licence helps you to ensure continuity of service in the event of hardware failure.
Patriot Modules
Patriot Software is both powerful and versatile. There are many modules that can be integrated into the main software package to give your monitoring business the flexibility you require.
Accounting
Ensures all services are billed accurately and automatically.
Reduced manual data entry by automating one off charges such as alarm attendances & work orders.
Automated and reconciled accounting data transfers
Relevant details provided on invoices
Consolidated site invoicing (multiple sites on one invoice).
Temporary alarm billing and Work Order billing
Excel Reconciliation reports
Tight integration to accounting applications
Mapping
Improve accuracy and response times with this module.This module adds mapping capability to Patriot. Operators have instant access to maps displaying client or activation locations. The Mapping module ensures accurate and rapid response, reducing the possibility of errors due to duplicate addresses and other geographical issues.
Can integrate to low cost, licence free 3rd party mapping software (Location dependent).
One licence covers Patriot Mapping on all your workstations
One click access to maps in the Patriot environment
Eliminates costly response errors and improves the professional image of your business
Can be used with Personnel tracking to monitor guard positions.
Administrators can see all activation and guard locations on one status map.
See where your mobile alarms are signalling from
Easy to install and deploy
Auxiliary Control
Automates the control of outputs (relays) from Patriot.Relays can be wired into a PC output board such as a KMtronic DINo 4 Relay board. These can be triggered from a response plan within Patriot.
Message Paging
Patriot's powerful Paging modules automate dispatch and alarm response. Many universities, public authorities, tourist resorts and industrial complexes have in-house security departments but it is not cost effective to have personnel covering 24/7 alarm monitoring shifts.

Patriot in conjunction with messaging enables security personnel to leave the monitoring station to attend to an alarm while signals continue to be automatically processed and despatched to pagers.
Dialler
Now digital PBX users can have all the advantages of the Patriot autodial function.
Redcare
With this module, Patriot equipped ARCs can monitor all red Redcare signals.
Dualcom
This module adds DualCom support to Patriot.
Remote Receiver
With this module, your CMS can monitor standard PSTN alarm receivers - anywhere - via the Internet.
Emizon
Support for IP signalling through the Emizon network.
Remote Workstation
Useful for Monitoring Stations with clients in multiple cities.
Galaxy
Support for Galaxy IP Panels
Telephony
This module automates many of the repetitive and time consuming tasks required of monitoring station operators.
Integration
Patriot 6 Software Development kits.
Text Messaging
Reduce costs and automate responses with these Modules.
Internet Client Access
Delivers secure, real-time access to client information - all from a Web browser.
UK Module
Patriot's feature set is extended to meet the requirements of ARCs in the UK.
Internet Dealer Access
Give your dealers and installers secure remote access to Patriot.
UL Module
Patriot software is UL compliant.
IP Receiver
Selected IP equipped alarm panel can be monitored via TCP/IP networks and the internet.
Video Integration
Video monitoring software interfaces with widely used Video, CCTV, IP Camera and DVR systems.
Lone Worker
Monitoring the safety and well being of lone workers poses a very real problem for management and a great opportunity for your ARC to offer additional services.
Voice Confirmation
This module adds Voice Confirmation between Fratech FE900 receivers and the Star Panel from Sensor Technologies.